Joined

Sep 17, 2009
Messages

891
Likes

36
Location
YouTube
Hello again, speedsolving community.
I am aware that Thom Barlow has 2-gen algorithms listed for 3-cycle groups 1 and 6 on his
ELL page
of his K4 Method guide, but for the rest, he currently doesn't have any posted. (Each group of 3-cycles has four cases. I am numbering the groups in ascending order from which Thom listed them).
I believe many speedsolvers like 2-gen algorithms, so I thought I would share this with you all. Maybe K4 users can adopt a few of these algs or create their own.
I will give one or more algorithms for groups 2-5 and 7. Above each algorithm is one of the four cases which is in the corresponding group, but not necessarily what the algorithm itself does. Why? Mirrors and inverses of my algorithms under each group can be made to handle all cases.
Most of the 2-gen algorithms which will be listed in this post are based off of the following 2-gen algorithm:
Rw U' R' U' r' U R U' r U2 Rw'
Derivation:
Take the commutator:
U R U'
U2 r U2
U R' U'
U2 r' U2
and add the set-up move l'
=l' U R U r U' R' U r' U2 l
Convert the set-up moves to wide:
=>Lw' U R U r U' R' U r' U2 Lw
Add in the proper cube rotation to place in U:
=> x' Lw2' U R U r U' R' U r' U2 Lw2 x
Merge the set-up move and cube rotation
= Rw2' U R U r U' R' U r' U2 Rw2
Rotating about y2 and taking the reflection of that:
Rw U' R' U' r' U R U' r U2 Rw'
Just by experimentation, if you are consistent with moves you invert and use different set-up moves, the algorithms listed below can be made from this algorithm (as I said before).
For the 2nd group: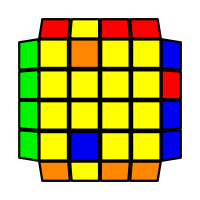 Rw U' R' U' r U R U' r' U2 Rw'
Rw r U R' U r' U' R U r U2 r' Rw'
For the 3rd group: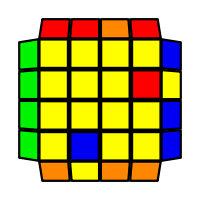 x r U R' U r U' R U r' U2 r' x'
For the 4th group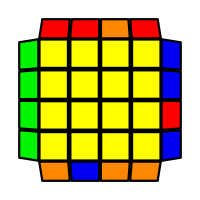 Rw U' R' U' r' U R U' r U2 Rw'
For the 5th Group: It's not 2-gen, but almost.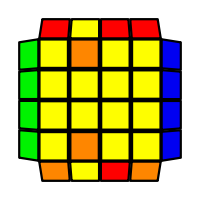 F Rw2 U R' U r U' R U r' U2 Rw2 F'
However...

For the 7th group: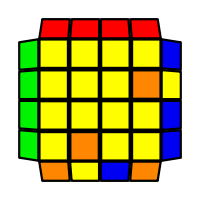 x Rw2 U R U r U' R' U r' U2 Rw2 x'
etc...
I hope there is at least one algorithm which can improve K4 users solving times. I am sure also, by these example algorithms, you all can come up with your own 2-gen algorithms.
Last edited: