Joined

Jun 22, 2006
Messages

210
Location
YouTube
I wrote some code to analyse this. I tested scrambles from 0 turns to 50 and counted the average number of joined corner-edge pairs after the scramble. I tested each scramble number 100,000 times to get an accurate average.
The results are shown in the graph below. The average number of corner-edge pairs converges to 1 for a fully random scramble because there are 24 possible corner edge pairs and each one has a 1 in 24 chance of being joined (12 edge positions * 2 possible edge orientation for each).
The average number of corner-edge pairs for a 20 move scramble is 1.92 - almost double the value for a fully random scramble. Admittedly, by scramble algorithm doesn't avoid cancellations, so the actual value would be slightly less.
The more corner-edge pairs you have, the easier it will be to perform an x-cross or block build and get a quick solve.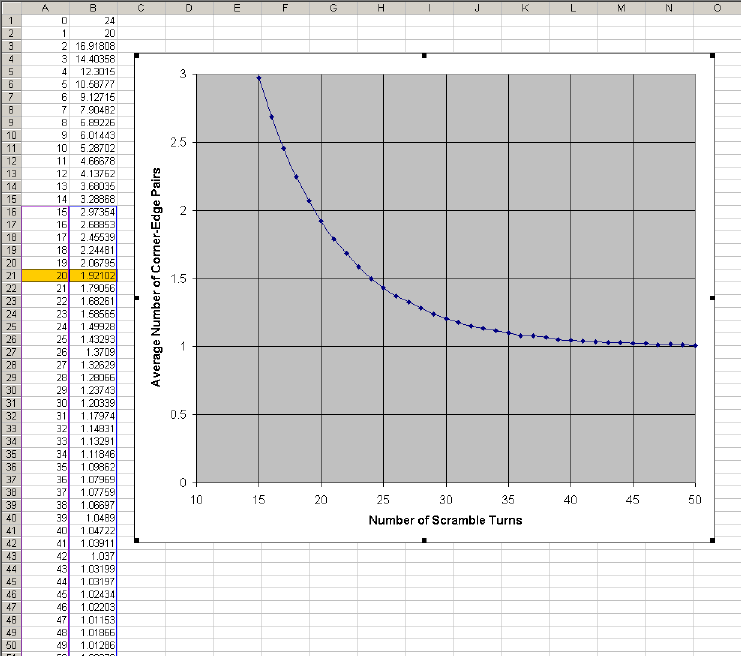 Sorry if this has been done before and is already well known. Obviously increasing the number of turns for a scramble would be annoying, but increasing it to only 30 brings the value down to 1.23 - much closer to a fully random scramble. I wonder who chose 20 in the first place and what did they base it on?
So, what are people's thoughts on this?
Also, has anyone derived formula for calculating the above data mathematically?
Peter