Administrator
Staff member
Joined

Mar 13, 2006
Messages

6,514
WCA
May 21, 2009 : Interview with Speedsolving.com member Ton Dennenbroek : Currently (at the time of this interview) has attended 49 official competitions (2nd most of all time). He is the former National Record holder (Netherlands) for 3x3x3 Multi-Blindfolded with 2/2 in 19 minutes, 47 seconds (2007).
Location:
The Hague, The Netherlands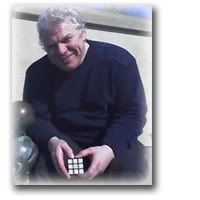 Occupation:
System integrator, Project manager
What is your favorite event, why?
I guess 5x5x5, I am relative slow, but my progress last year even surprised myself. Although blindfold solving and finding it solved after you take off your blindfold is very satisfying.
What made you become interested in solving puzzles?
It was in 1981 when a friend had a Rubik's cube. I did not own one, so I had to spend 4 or 5 evenings at his home playing with it. Since I did not own a cube, I made some sketches of some moves and this is when I discovered the 3 cycle that I basically solved it via commutators. At that time I did not know the term, I just called it -translated- "forward" shift in position the "backward. Then in Dec, 1999, I met Ron van Bruchem via an online Rubik's game. And Ron was very dedicated to cubing fast (was not called speedcubing - Ron invented it in 2000). I could just solve it in 45 sec at the time. From 2000 until 2003, I was more a puzzle collector, before Ron pushed me to use a speedcubing method. I could not believe I would once I do a 17.74 average! When you say "this is not possible for me" you stop, but once I decided others can do a sub-20 average, I said so can I. I have no real talent so I just must practice more. After removing this mental block, I was able to solve very fast. Now I am improving my 4x4 times, this is why I like speedcubing. I still improve every competition and in most of them I set a PR.
What, in your opinion, is your biggest "cubing" accomplishment?
Doing a multi-blindfold 2/2 and got an NR with it and I am still very proud of my 13.28 second single solve. I even did a 11.34 second solve racing Rama at home.
What are your other hobbies?
Puzzle collecting, F1
What is/are your pet peeve(s)?
When people do not tell the full story. We call it in "hidden agenda" - happens to me all the time when I look at my CEO.
What will the future of cubing be like and how would you like cubing to progress?
Currently competitions get very big and competition that Ron and I organize means we do all the work. It is now the time that we involve more people in the organization, maybe is a culture thing. I was very surprised how many volunteers there are in Poland. It looks like the whole town was busy with it. So I would like to see more volunteers and more organizers.
Last edited: