Administrator
Staff member
Joined

Mar 13, 2006
Messages

6,378
Likes

670
WCA
July 30, 2008 : Interview with Speedsolving.com member Pedro Santos Guimarães : Currently (at the time of this interview) holds 9 South American records, including a 1:23.05 3x3x3 Blindfolded time, which is the 15th fastest official time in the world.
Location:
Uberlândia, Minas Gerais, Brazil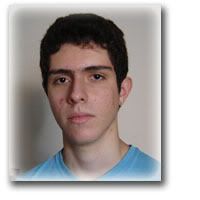 Occupation:
Student (Electrical Engineering)
What is your favorite event, why?
I'm between 3x3 One-handed and 3x3 blindfolded (and 3x3 speed). I like one-handed and blindfolded because, at some point (like 1.5 years ago), I was good at them. I think I even got 2nd place on the one-handed average of 12 Unofficial World Record list, behind Ryan Patricio, with a 25 second average or so. I was good at blindfold too, being top-10 if I'm not wrong. But now all these fast guys showed up and I suddenly am so slow
but I'm trying to stay decent.
What made you become interested in solving puzzles?
I once saw a video of a guy solving a cube in around 1:30. Before that, I thought (as many people) that it was impossible to solve the cube. With the video, I figured out it was actually possible to solve it, then I tried for a week and got one layer...looked the rest of the stuff on the internet and I'm hooked since then (3 years ago). I always liked solving (math) problems and doing crosswords, so my puzzle-solving passion is older than my cubing one.
What, in your opinion, is your biggest "cubing" accomplishment?
Well, I think I'll say 5 cubes blindfolded. 4x4x4 blindfolded is also cool, but is less information to memorize and I've done it more times (only got 5 cubes once, since then I'm trying 6).
What are your other hobbies?
Video games, music, surfing on the internet, watching sports (specially soccer and I'm liking track and field too - Powell for gold in Beijing!).
What is/are your pet peeve(s)?
Cube-speaking, I don't really like little kids messing up with all my puzzles, even if they're my little cousins
(they did, this past weekend). Other than that, people saying they peel the stickers or take the cube apart and/or making stupid jokes related to cubing. Outside cubing, I don't like lies, jealous people and someone pretending he/she is better than another person.
Last edited: