Administrator
Staff member
Joined

Mar 13, 2006
Messages

6,426
WCA
July 11, 2008 : Interview with Speedsolving.com member Mike Hughey : Currently (at the time of this interview) is ranked 4th in the world for 4x4x4 Blindfolded (12:52.00) and 4th in the world for 5x5x5 Blindfolded (43:53.00). He was also the first person in the world to solve a 7x7x7 Blindfolded (unofficially).
Location:
Fishers, Indiana, USA (just outside Indianapolis).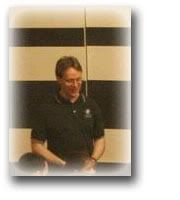 Occupation:
Software developer (C++).
What is your favorite event, why?
No doubt about it: my favorite events are the big cubes blind. I really like the 4x4x4 blindfolded because they don't take too long so you can do bunches of them in a row. But I must admit that I like bigger cubes too - I really like doing 7x7x7 blindfolded now.
What made you become interested in solving puzzles?
I guess I was always into puzzles, even well before Rubik's Cube was invented. But I was hooked immediately in 1981 when I first saw an article on the cube in Scientific American. I went out and bought one right away, and then I spent two weeks figuring out how to solve it on my own (a corners-first method). I tried to speedsolve it a little back then, but never got much faster than 3 minutes. Then at the start of 2007, I decided I should finally learn to speedsolve it. A friend gave me a 5x5x5, and I really got into that. But what really got me going is when I used Macky's guide to learn how to solve blindfolded. I've been addicted to blindfold cubing ever since.
What, in your opinion, is your biggest "cubing" accomplishment?
Probably doing the 7x7x7 blindfolded, but I must admit that my 3/4 5x5x5 multiBLD ranks close - it was the greater effort.
What are your other hobbies?
I play all kinds of keyboard instruments - piano, organ, synthesizers. I also juggle. I really enjoy playing with my 3 daughters and teaching them things - things like cubing, piano, and juggling.
What is/are your pet peeve(s)?
I don't know if I really have any. Things might bug me sometimes, but not all that much. Well, maybe an unsolved cube - I always feel like I have to solve it when I see one.
Last edited: