Administrator
Staff member
Joined

Mar 13, 2006
Messages

6,282
Likes

503
WCA
YouTube
March 1, 2009 : Interview with Speedsolving.com member
Jason Baum
: Currently (at the time of this interview) is ranked 13th in the world for 3x3x3 average (11.97 Seconds). He is also the former North American Record holder for 3x3x3 Average (2008).
Location:
I was born and raised in Pittsburgh, Pennsylvania, but currently I go to school at Liberty University in Virginia. I definitely plan to move back to Pittsburgh once I get out of school though.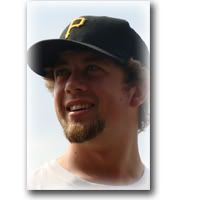 Occupation:
I'm a full time student at Liberty University in Lynchburg, VA. I'm a music major (percussion) and Biblical studies minor, but I don't really have any idea what I want to do after school.
What is your favorite event, why?
Definitely 3x3x3 speedsolving. It just gives me more satisfaction than any other event. To me, there's nothing like nailing a sub 10 solve or having a great average session. I just hope I'll get to experience those feelings in competition someday. The time I spend practicing is probably something like 95% 3x3x3 speed, 5% other stuff. I'm pretty sure that's why in competition I usually do bad in 3x3x3 but good in everything else - it's pretty much the only event that I really care about so I end up putting too much pressure on myself to do well, whereas every other event I just go up and solve without caring too much what times I get. 3x3x3 is still by far my favorite event though, despite having that frustration.
What made you become interested in solving puzzles?
I learned how to solve the cube in 2004 from my friend Joe Spadafora, who unfortunately doesn't cube all that much anymore. I got my times down to about 30-35 seconds using the basic 7 step layer by layer method. In May of 2005 there was a competition in New York, so Joe and I decided to go. I started to learn PLL and finished learning them in time for the competition, where I average 30.54 seconds in the first round and 32.06 in the second. I didn't have a lot to do during that summer, so I spent most of my time cubing. Two months later, when I went to my next competition (Caltech Dallas), I was using full Fridrich and averaging sub 20. My times have been steadily dropping ever since.
What, in your opinion, is your biggest "cubing" accomplishment?
Definitely setting the North American record for 3x3x3 average at the Da Vinci Science Center competition. My time was 11.97 seconds, and I was the first North American competitor to do a sub 12 average in competition. That average also placed me 5th in the world at the time, and it was really cool to be able to say I was top 5 in the world while it lasted. I won't be satisfied until I get the world record though. A close second would be learning so much of ZB. Right now I know all of ZBF2L and about 30% of ZBLL, including all of the T orientation. I haven't had much time to learn new algs lately, but I can still use all of ZBF2L and most of the ZBLL that I know without much recognition time.
What are your other hobbies?
I love to drum. I play all sorts of percussion instruments - mallets (marimba/vibes/xylophone/bells), timpani, drum set, but I especially love rudimental style drumming. I play the snare drum in the Liberty University Marching Band and I absolutely love it. I'm also a huge fan of DCI (Drum Corps International), which is basically a competitive marching music organization. Besides drumming, I'm a pretty big sports fan. Hockey is my favorite sport, and I've always been a die-hard Pittsburgh Penguins fan. I'm also a big fan of the Pittsburgh Steelers (6 time Superbowl champs!) and Pittsburgh Pirates.
What is/are your pet peeve(s)?
When people spell Pittsburgh without the "h" at the end... drives me absolutely crazy. Another one is when people don't use their turn signals while driving. Cubing-wise, there are three things that really bother me. 1) Sticker jokes, 2) People who spell "rubik's" with an x, and 3) People who make jokes that Asian cubers are only good because they are Asian.
What will the future of cubing be like and how would you like cubing to progress?
I think the Fridrich method is reaching its limits. In my opinion, times will stay at around the 10 second mark until more efficient methods are learned. That's why I'm still very optimistic about the future of the ZB method. ZB is an area of cubing that is, for the most part, unexplored, and its move count is significantly lower than the Fridrich method. I think that we will have to explore other methods in order to continue to see times drop as we have up until now. As far as the actual speedcubing community, it will continue to grow and competitions will continue to get bigger. Maybe they will show the world championships on TV someday... who knows!
Last edited: