Joined

Apr 5, 2009
Messages

171
Hey Everyone, I'd like to introduce gqTimer, the Graphy qqTimer that logs and graphs your times.
You can find it at
gqtimer.kungfoomanchu.com
This timer is currently released in
beta
form and is simply the regular version of qqTimer that you know and love with the added ability to save your times and display a number of them in graph form.
You can view a screenshot of the graph below: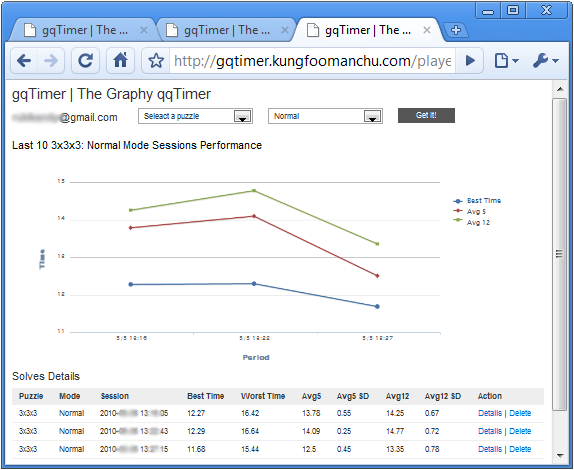 Features:
You can use your Google or Yahoo accounts to login. Thus all login info is controlled by a third party (not us) and you won't have to worry about security
Saves not only your times, but your scrambles as well (we will keep this feature for as long as we can, though it may eventually overwhelm our server)
The graph uses javascript, not annoying flash
You can specify if your solve was performed Blindfolded, One Handed, etc.
You can change the interface of gqTimer to a new design
Limitations:
This version only will only save your times for the WCA puzzles, though you can use the timer just like qqTimer for all the other puzzles
This is currently in beta form and thus some features may not work properly. We cannot yet guarantee zero data loss.
Does not save Avg100, only saves Best Time, Best Avg5, Best Avg12 and total session data (up to a reasonable amount of times, at this point in development we do not test above 20 times per session)
Linux and Mac support untested
Future Development
We plan on adding a weekly contest feature in the near future and would like suggestions from the community to find out how to best implement such a thing
We plan on adding Facebook and Twitter integration
We plan to add the ability to specify if you solved the cube with Petrus, Roux, color neutral, etc.
We would like any and all feedback and suggestions that you think of. We would like to create one uber-timer with support from all programmers in the speedcubing community. We aren't trying to compete, just cooperate.
Credit – much credit obviously goes to Michael for creating qqTimer. Also other members of the kungfoomanchu.com team did much of the work for the 'cloud' part of this project.
Special Note - Please report any bugs via private message and they will be addressed, especially after June because my month of June is really hectic.
Last edited: