Joined

Jan 9, 2017
Messages

149
Location
WCA
Block Keeper is a standalone, cross platform desktop cubing timer. It provides a simple and clean interface, completely offline, without Java.
Features:
Windows, MacOS and Linux support
Java not required
Completely functional offline, no Internet connection required
Event based session organisation
Stylish and easy to navigate interface
Scramble generation for all WCA puzzles
WCA Inspection support with voice announcements
Optional split timer controls
Multiple interface themes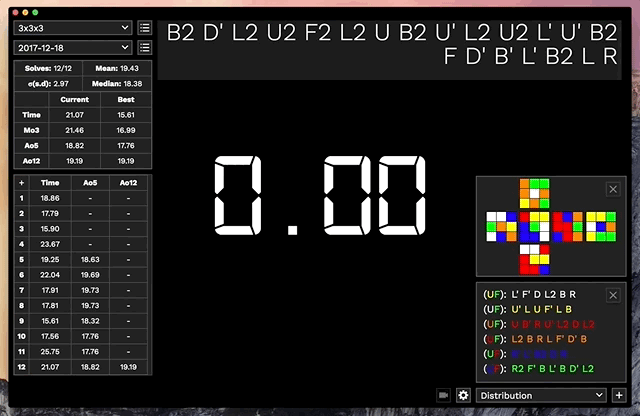 I built Block Keeper with session organisation in mind. After selecting which event you will be solving for, the scramble adjusts to it and all newly created sessions will appear only under that event. So only your 3x3 sessions will be shown when you select 3x3 and only your 2x2 sessions will be shown when 2x2 is selected. I don't know how most people organise their sessions, and I'm sure it's different for everyone, but this system promotes session organisation across a wide range of events.
Block Keeper uses Github's Electron, making it incredibly flexible, cross platform with no Java required! Unfortunately the file sizes are much larger than I would like, but Java takes up storage regardless.
Download Here: http://dallasmcneil.com/projects/blockkeeper
A comprehensive user guide is also available. Most of Block Keepers is intuitive to those who have used timers before but there are some neat shortcuts and useful information available if you need it. It also has a roadmap for future development ideas.
User Guide: http://dallasmcneil.com/projects/blockkeeper/guide
Block Keeper is still in development and I'd love some feedback to help make it even better. If you find a bug or want to request a feature let me know.